1ST BATHROOMS & KITCHENS, NOTTINGHAM
1st Bathrooms deliver top quality products and superior workmanship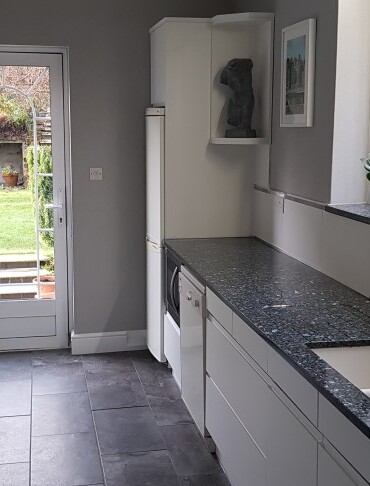 Our bathroom and kitchen designer Steve Flewitt has been planning, designing and fitting bathrooms and kitchens for more than 10 years and during that time has embraced new technology whilst holding fast to the principles of good craftsmanship.
Steve believes in an open and honest relationship with clients where consultation and choice are paramount. At 1st Bathrooms & Kitchens, Steve has vast resources of materials to choose from and a wealth of knowledge in the suitability of their application. This combines to produce unique and individual bathroom and kitchen designs that are practical, durable and state-of-the-art.
The Bathroom and Kitchen – Design Process
Steve aims to provide you with an innovative solution by considering your needs, budget, and the most up-to-date products available. He will match colours and textures to create an environment especially for you.
His skills can be applied equally to partial refurbishments as well as new build, renovation and home improvement projects. Steve will aim for perfection all the time to make your home special.
During the Design Process, we will produce: –
A full quote listing all materials
Computer-generated 3d images of the final design
When required, construction and installation drawings
The 'guesswork' is removed from the design process by careful planning and attention to detail, leaving you relaxed and assured that your bathroom or kitchen will be just as you imagined it.
At the end of each product, we always ask for customer feedback,  All testimonials are published here and on the Which? Trusted Partner website.  Should a client have any issues then we will endeavour to correct them.
1st Bathrooms and Kitchens has received an average of 5 stars across our key metrics: –
Value for money
Standard of service
Likelihood to recommend
Product quality
Customer Satisfaction
We are a Which? Trusted Trader

As a Which? Trusted trader your satisfaction is the most important part of our work…
We will work with you to ensure that when access, adaptations or disability are an issue we will provide a solution that meets your needs.
Our Commitment
As craftsmen, we are proud that our workmanship is compliant with national standards. We always provide a written quotation, and our workmanship is guaranteed.
We protect your investment
By offering comprehensive written terms and conditions for all our contracts and as well as providing significant liability insurance.
We encourage you to visit the UK Consumer Protection Agency website, of which we are members, to view our ratings and leave some feedback. Alternatively, you can leave a comment here.

Complaints policy
We always endeavour to provide the best service and products for our customers. However, on rare occasions, we recognise that there may be times where our customers may not be completely satisfied. See our Complaints policy