Mobility bathrooms design for the less abled
Mobility Bathrooms when mobility becomes an issue, homeowners often debate whether they should move to a home with a more accessible bathroom or make some adjustments and changes to their existing bathroom. Often it is much more cost-effective to have your current bathroom redesigned with adapted fittings and features.
Steve at 1st Bathrooms can design and build in all those little touches into your shower room that are designed to provide you with a safe and comfortable shower experience. For those with limited mobility, we can also incorporate specialist equipment.
A Mobility bathroom designed for you by Steve at 1st bathroom's will be personal and takes into account all the care and accessibility issues you may have.
Access, Mobility, Privacy and Assisted Bathing
When mobility is an issue we can offer level access solutions: Alternatively we can also explore low level and standard shower products.
Level Access – no step, is required when wheelchair access is required, or if health issues dictate a solution that eliminates a step.
A wet room – gives you a flat floor shower access and no obstacles to negotiate. These may be finished with tiles or vinyl.
We can also provide a range of cost-effective floor level access shower trays.
Low-Level Access can be achieved by using shower trays approx. 40 – 50 mm / 2" high. This type of shower tray involves a very low step.
Sometimes we have to install a shower with a step of around 125mm / 5".
Non Slip surfaces are available in many showers and some are available in colours.
We can provide a range of glass screens with any shower: Privacy screens, screens for walk-in showers, standard, bespoke and a range of special shower enclosures for assisted bathing are all available.
Sit while showering- a seat can be installed that discreetly folds to the wall when not in use.
Nothing feels as refreshing as a long hot shower. We can ensure that showers for the less abled are suitable for bathing both standing and sitting.
The position of the seat and the shower controls is always a key factor in any bathroom we design. If you are considering a redesign then all these things will be considered and discussed with you.
A simple waterproof seat is an inexpensive solution that can make bathing easier, more dignified and accessible.
Shower stools, padded seats with and without armrests are available.
Seats are normally fixed to the wall and will fold away neatly after showering.
Fold-down seats attached to the wall are a great option for small showers.
In the larger shower, a built-in seat or bench might be something that you would prefer.
Here at 1st Bathrooms, we understand that you don't want your bathroom looking clinical, so we can create a beautiful, modern yet functional bathroom that you can be proud of.
Achieving Comfort and Dignity when bathing
Fixed Overhead and Handheld Showers in a Mobility Bathroom
We can provide showers that offer both fixed and handheld showerheads. However, when sitting the handheld shower is easier to use. The handheld shower makes the shower experience more comfortable, it's simple to use and easy to control.
We offer a diverse range of fittings to meet your needs and your budget.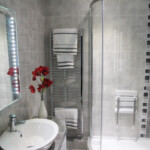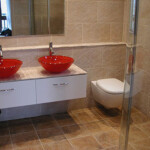 Stability aids fitted near the toilet, bath, basin, in and around the shower make moving around the bathroom safe. Offer stability and support and confidence. We can position these items where you need them and when possible where they are not too obvious.  If you're concerned that stability aids will detract from your decor, you'll be happy to know that our suppliers produce products that look good too.
Sitting down and swinging your legs over the side of the bath can be a difficult task for stiff joints. A walk-in bath provides a solution for a homeowner who loves a relaxing soak but wants easy access.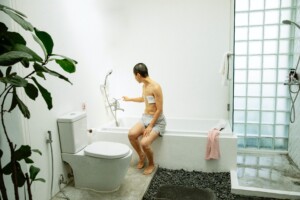 Mobility bathroom guidelines recommend that toilets be 500mm (17-19 inches high, measured to the top of the seat. 1st Bathrooms will install new toilets that have a seat height of 500mm. standards.
We will provide a separate standalone bidet or often and when space is limited a combined bidet/toilet seat.
The bidet/toilet seat replaces the standard seat, to provide:
•  A high-level seat that can be installed onto standard pan fixing points
•  Soft close anti-bacterial seat for enhanced hygiene
•  Heated seat with three temperature settings
•  Continuous water heating for instant warm water that won't run out during cleaning
• Adjustable water temperature with aerated spray and variable jet settings
•  Adjustable spray head positioning for comfort and gender
•  Automatic spray head cleansing before and after use
•  Built-in Deodoriser
•   Touch activated on/off sensor
•   Automatic shut down for energy saving
•   Remote control for privacy, convenience and assistance bathing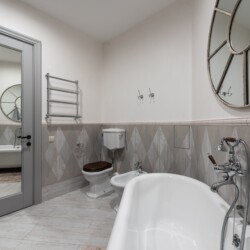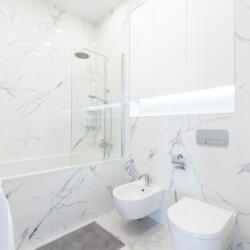 Shower Valves and Taps – Use-ability, Comfort and Safety
All our showers are thermostatically controlled. Our taps can have anti scold controls.
Hands-free taps can make bathing easier for many.
A single-handle tap makes it simple to turn on and adjust, without tight grasping or twisting.
1st Bathrooms can provide hands-free taps that detect your hands and automatically turn on the water.
Get a quote from someone who understands
Steve from 1stBathrooms is a mobility expert and will guide you through how he can redesign your bathroom to make your life a whole lot easier.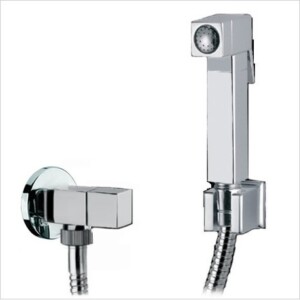 Accessibility and control of Lighting, shaver points, demist mirrors, lit mirrors, electric heating controls
Switches and controls play a major role in creating an accessible bathroom. 1st Bathrooms will fit the right switch/controller in the right location to match your needs.
Get a quote from someone who understands
Steve from 1stBathrooms is a mobility bathrooms expert and will guide you through how he can redesign your bathroom to make your life a whole lot easier.  Get a quote