Luxury bathroom design in  Nottingham
Our bathroom planning and bathroom fitting by a true specialist. 1st bathrooms are experts in bathroom design for all shapes and sizes of room and Steve is our specialist Mobility Bathroom designer.
The real thing – luxury bathrooms designed and expertly fitted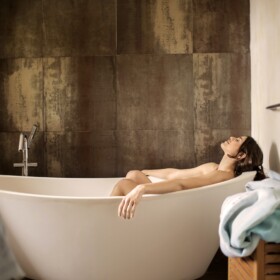 • Our bathroom design team have worked in the industry for many years
• We only use the best quality fixtures and fittings
• We source from around the globe
• Our bathroom fitters are craftsmen
• We deliver 100% satisfaction
Your dream bathroom designed by experts
If you've been traipsing around retail parks or shopping centres, listening to sales people trying to sell you a narrow range of bathroom products and finishes and you get the feeling that you've seen it all before – then here's something refreshing…
Tell us about your bathroom design ideas and we will turn your ideas into stunning bathrooms that will enhance your home.
Bathrooms planned and fitted by experts
We source our bathroom fittings, finishings and sanitary ware from the four corners of the earth and our ideas often stretch beyond that!
Everybody's had a go at some point! If you have a bathroom that needs saving or a bathroom that needs updating, why not take advantage of our refinishing service – a complete overhaul of your existing bathroom.
Tried DIY? Get your bathroom overhauled by 1st bathrooms craftsmen
Need a more Creative Interior?
Let your imagination run wild – we won't stop you!
If you need idea's take a look at our galleries
If you need inspiration complete the 'contact us' form now.
If you still need to be convinced then click on 'what our clients say'!
Looking for a luxury bathroom – fitted by experts?
Get your free no-obligation quote
Luxury bathroom design and bathroom fitting in Nottingham, Mansfield, Derby, Chesterfield, Worksop