I am often asked to replace a shower, sometimes with a wet room, others with a walk-in shower or often with a new enclosure. On occasions just looking at a shower can ring alarm bells, at other times you can look at it and see what appears to be a well finished tiled wall.
It was very clear that the walls in this bathroom were going to be a major problem.
When I started to replace the tiles in this bathroom I was aware that there had been some movement in the adjacent partition walls; I see this often. I had designed that bathroom so that the long shower wall would be removed and replaced with new. I was not prepared for what you can see here! https://www.youtube.com/embed/U9trs7NL0oU
I had observed that the original shower looked like it had been installed correctly.
The tiles where flat, level and the grout lines were good.
It was clear that a crack between the long and short walls had appeared and been repaired and sealed with silicon.
The joint between the tiles and the shower tray had also been maintained and replaced.
The silicon had been applied, bonded and formed to make what appeared to be a good seal.
It was clear that the internal walls had in time moved…
The original walls were finished in plaster, which absorbs moisture and if left will degrade, passing excess moisture into the building structure. If the original shower walls had been sealed and tanked this would have prevented the transfer of moisture from tiles to plaster and onwards into the walls.
As you can see in the video above the damage caused was not pretty.
To make matters worse the partition walls in the internal walls were made of compressed straw, sealed and finished with a thin plaster skim. Internal straw walls are made in factories in Hungary I think. I had already discovered that internal Straw walls are not readily available from within the UK merchant network.
Straw has been used to make internal walls for many years. Straw walls are strong, resilient and durable as well as thermally efficient. Straw internal walls are made to order, purchased in bulk by developers and shipped into the UK by lorry. Straw walls are 50mm thick when finished whereas a normal thin partition wall would be around 95mm thick. There is nothing wrong with a building that has internal straw walls.
A 50mm internal straw wall can not be directly replaced by a 95mm standard timber stud wall or a thinner 75mm steel stud wall.
How did we fix the shower room?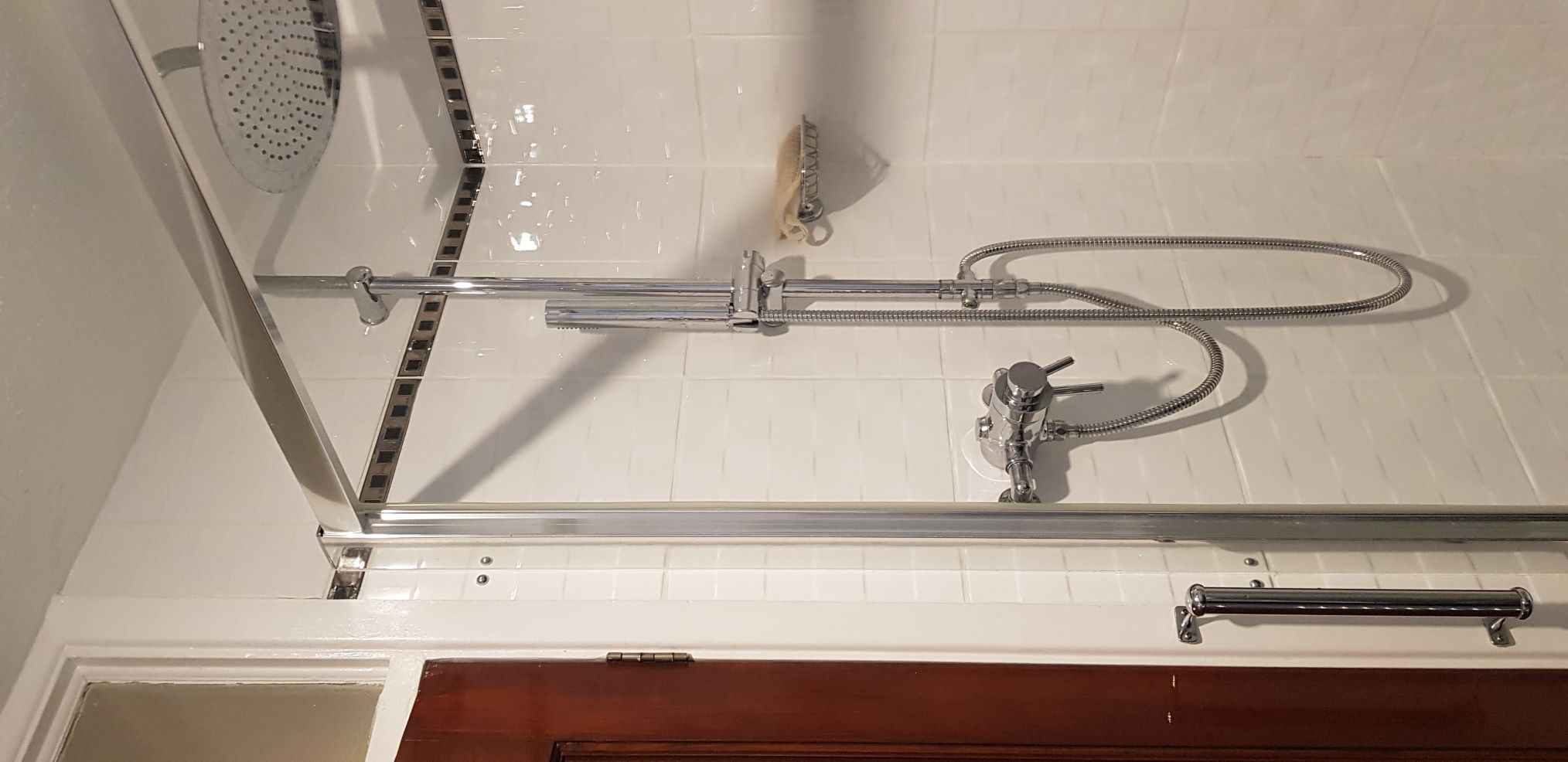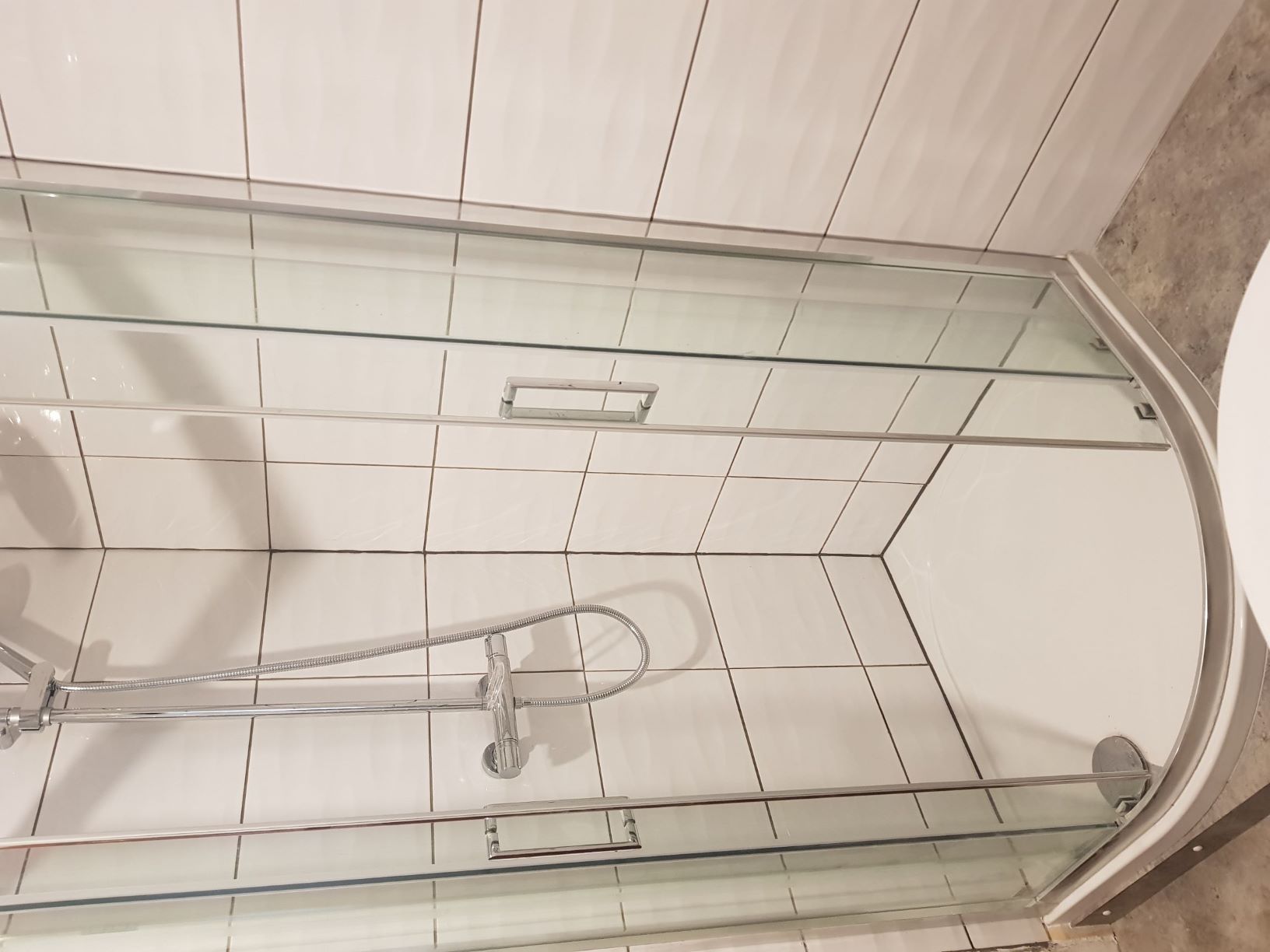 The Refurbished Shower Room
The walls were repaired and replaced using a 65mm thick wall of my own design. The bathroom walls were repaired and refurbished, the shower walls were sealed, tanked and tiled. A new larger shower is installed along with a more powerful Diverter shower system.
The owner's review of the refurbished shower room confirms
Norma and I are very pleaseed with the Shower room, we would not hesitate to recommend him to any of our friends and family.
The owner's 4.5 star review from Which?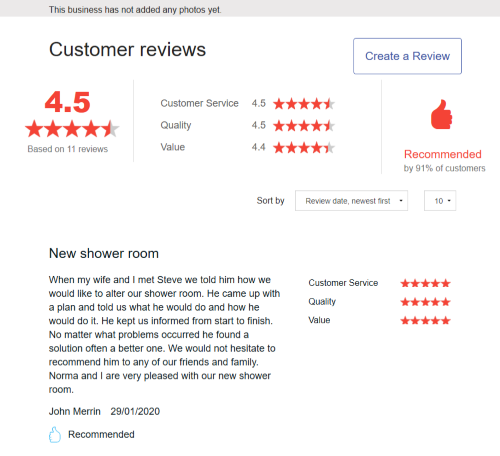 If you want a shower installed properly then please contact Steve on 07815453729 to discuss your needs.

Steve Flewitt t/a www.1stbathrooms.com