AQUALISA – FIRST IN THE Q
for smart energy efficient showers
Technology is changing fast and bathroom technology is catching up.
"We are all becoming far more energy savvy and smart metres allow us to understand exactly how much a relaxing soak costs" says Steve Flewitt at www.1st Bathrooms.com
Aqualisa are ready to launch Q, the next generation smart mixer shower.
To help save water the shower activates power when you get close and can even say hello! Q reduces flow by 10% when you step away from the shower head. There is also a touch on/off switch, that users a new tech. Touch screen designed for the wet environment. With Smart technology you can easily create your own unique shower experience or just simply use the pre-set options – Eco, Family & Sport.
Steve says he can configure the Q shower to be exactly what you want it to be using either single or dual outlet, with specially-designed fixed and adjustable heads, overhead or hand held, Each Q shower has a Wifi remote with chrome docking point and USB charger.
Including for the first time the space-age, smart phone style, touch screen, high resolution look, full colour 2.4" display screen with easily readable icons provides the user clear visual feedback.
Your safety is protected by thermally and chemically resistant glass.
Aqualisa says there's no going back – think the wheels on a suitcase, pause TV or a camera on a phone. Aqualisa is leading the bathroom industry into the smart shower market .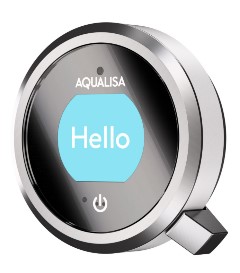 Aqualisa Q is a premium shower offering. "The features of this shower are fantastic" says Steve, "The movement of the Q lever, used to navigate menus and profiles, provides a feeling of seamless motion and it looks fantastic" Steve points out that "All the touch points are metal or glass and provide a premium look and feel" of an Aqualisa product.
"The digital home is getting closer and the global trend to personalise every element of the home environment is just around the corner. This shower takes it a step further to bring real innovation to the bathroom market," said Steve Flewitt – 1st Bathrooms
AQUALISA Q – THE WORLD'S SMARTEST SHOWER
1st Bathrooms are proud to be able to supply and install Aqualisa Q, available shorty. Contact Steve at www.1stbathrooms.com for a quote.