Bathroom renovation Nottingham
A good month to show a range of smaller bathroom renovation projects in Nottingham including the installation of 2nd WC, walk in shower, back to wall furniture and wood flooring at a house in LadyBay and ther removal of a sunken bath and replacing it with a walk in Shower in Woodthorpe.
LadyBay – Victorian Terrace
Remove existing shower and bath, basin and WC.
Install 2nd WC, walk-in shower, back to wall furniture and flooring.
When a client goes away for Christmas and expects to come home to a finished project then the pressure is on. In LadyBay the houses are solidly built and have stood the test of time quite well. This one has suffered from some movement caused by broken drains that have been replaced with new. It's a shame that when the insurance replaced the mains drains they did not also replace the ageing cast iron waste pipes.
So one cold freezing but dry winter's day saw the existing pipework removed and replace with a new black UPVC system. We installed a 2nd WC at the same time, so that the property now has a WC in the bathroom and a separate cloakroom.
I had to remove many loose bricks that were crumbing and loose because of the movement and then replace them so that the wall would become solid and accommodate a new grand walk-in shower.
The bathroom now has back to wall furniture and a nice new looking Oak flooring. I used Expona Wood which is tough, durable and easy to maintain.
Pictures will be available when the room has been decorated but for now this is the design layout.
Woodthorpe – Replacing a sunken bath with a walk in shower
All Butler houses in Woodthorpe are renowned for being solidly built. I can confirm this and have worked on a few. In this bungalow you will see the original cast iron bath was supported on cast piers, bricked in on all sides and then tiled using good old fashioned techniques. My client found that some years ago similar tiles could not be removed very easily at all. No surprise there then.
The installation also had other issues including a dropped ceiling that limited the height above the new shower to just under 2 meters. There are not many shower screens that are available to work in this space but here you will see one that is 1850 high. I designed the space to accommodate a 1600 x 800 shower tray, a fixed 1000 glass panel and a pivoted end panel. The pivoted end panel provides unrestricted access for users and can be pulled partially closed so that it prevents water splash from the shower area escaping from the tray.
As the client did not want a repeat trauma of seeing the tiles removed then I installed Nuance Shower Panels on the walls. Nice aren't they.
The original bath aperture is 760mm deep and shower 800 deep so I designed and installed the two vertical columns neither side of the shower to make up the difference and provide a rigid mount for the panels. As the tiles on the bath panel were removed undamaged then I cut and re installed them alongside the shower panels to tie in the appearance of the new shower appear to the existing bathroom. Good result I think. I also replaced the old basin with a modern classically styled back to wall basin and vanity unit, 800 wide x 200 deep. The old WC was also replaced with new, matching the WC waste outlet was a bit of a challenge as the original cast iron waste pipe was 80mm and set at floor height rather than raised to approx. 100mm to match the new item. It now works very well with a modern economical dual flush cistern
Finished awaiting decoration and flooring.
Before- Solid Build, not many copper traps remain.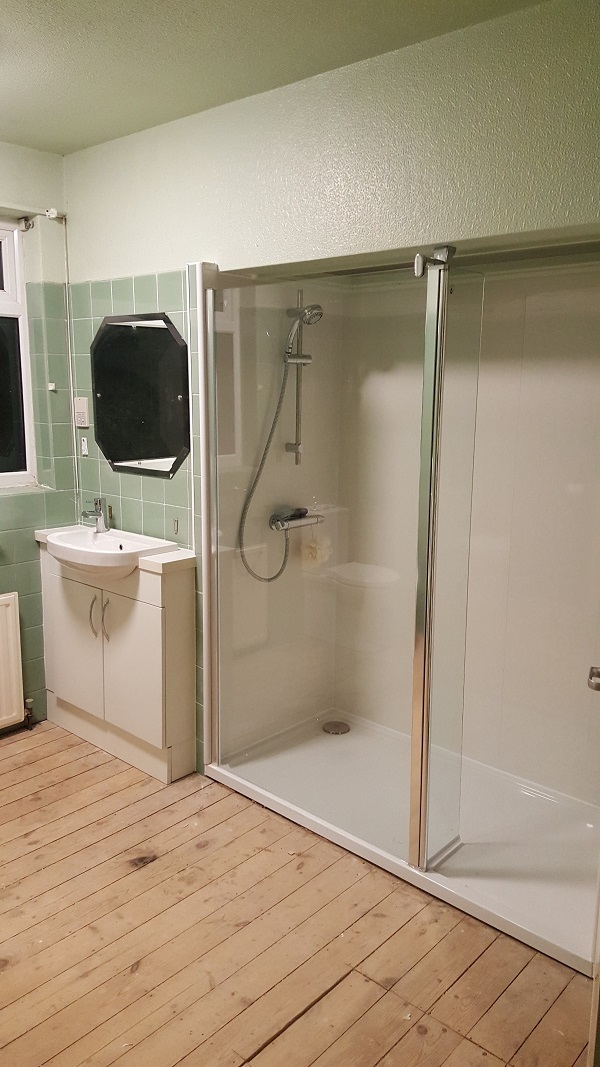 Before , dropped ceiling and low level cast iron bath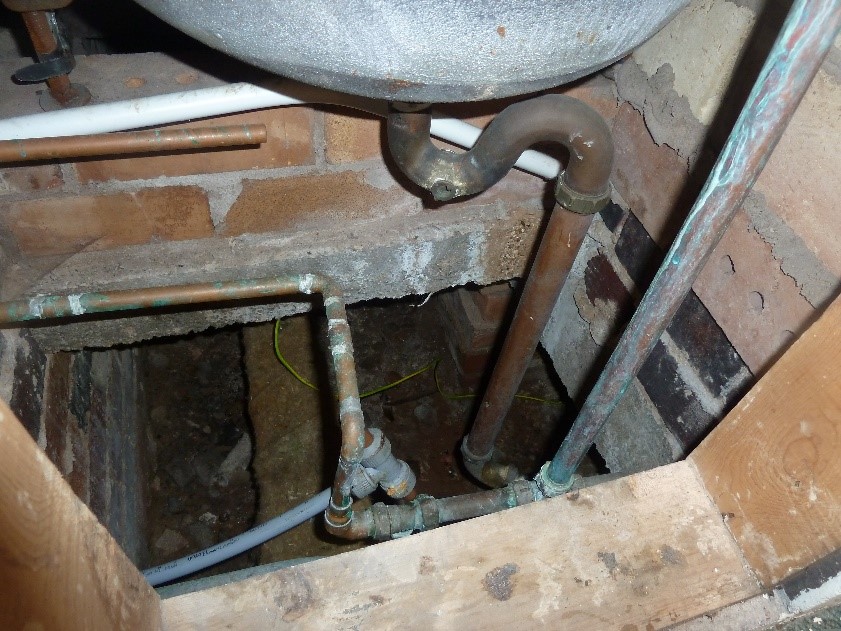 Late last year I finshed wet room for the Jarvis familly. They decided that they wanted the ceiling finished. This was installed this month. Lets see what you think, looks great doesn't it.