Kitchen Storage Trends
Storage Trends – Free standing or built-in-larders
The clean look is defiantly a kitchen storage trend right now. Nothing is compromised in these designs, everything is cleverly hidden to create a streamlined look in the kitchen.
Kitchen essentials are neatly stored behind cupboard doors with on-door built-in spice racks, clever draws and shelves incorporated into the design to store all the essentials.
Pull out sliding pantry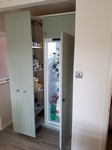 Easy glide pull-out wire shelving hidden in a cupboard with easy to clean shelving and loading, you can easily see your storage items and labels with no effort making it a popular solution to every day storage.
Kitchen Storage Trends for Wine Storage
Wine stores with precise storage for each bottle of wine or champagne, with clever thought out shelving for opening and of course for the bottle opener. The corner bar larder is becoming very popular incorporating space for all your bottles and shelves for glasses and mixing cocktails.
Kitchen Storage Trends Pocket Doors
Pocket doors are very popular with a unique system of doors that open as conventional doors then push away from view back into the cabinets own recess revealing a complete storage solution inside with toaster, kettle coffee machine and even a sink.
Tidiness Is Becoming The Norm
Clean worksurfaces and clean line look is defiantly an up and coming trend, it has become second nature to keep things neat and tidy with everything hidden but on hand and easily accessible with clever storage solutions, hidden storage has become an essential, so your kitchen remains tidy with clean fresh looks.
Kitchen Storage Trends Corner Units
The Magic Corner Comfort remains a truly magic cupboard and offers a truly unique selling point. Reflecting the trend for ultimate space saving and neatly fits in to a corner, when the door is opened the magic shelves appear and unfold to revile your kitchen items easily accessible.
Swivel or pull out there are many designs to choose form including metal basket designs to solid fitted swivel shelving.
Washer, fridges, dishwashers, coffee machines and a full recycling bin draw are all hidden behind matching cupboards or integrated and all magickly disappear, giving you a fabulous streamline kitchen with good planning looks amazing.
We select products from a diverse range of manufacturers when we create the perfect kitchens for each client. 1st Kitchens offer top quality kitchens using components from the world's leading Manufacturers including Caple, McCarron, Daro UK and LDL Components.
For kitchen contact Steve at 1st Bathrooms and Kitchens Nottingham.