Worktops are an emotive subject

Laminate is still the popular choice for around 50% of kitchen buyers, but stone and engineered stone are increasingly in demand. Solid surface (Acrylics), steel and concrete have joined the worktop party as materials of choice.
The Wish List For Surfaces Includes:
Free Space
During the design process, you really need to understand how you intend to use your kitchen so that the work surfaces work for you. Not having enough free worktop space is a major problem for many who like to cook or socialise in their kitchens. There are compromises that can help free up worktop space and a good kitchen designer should be able to help sort this out for you.
Materials – work surface, upstands and backsplash
Laminate:
Dominates the market because it's a material that is easy to live with, use and clean, plus relatively easy to install. Laminate appears to follow the colour trends and are often chosen to look like natural wood or stone with high gloss and textured finishes.
Quartz
Available in a diverse range of colours, some colours are bold. Quartz is a manmade material that is and getting more technical as it is developed. Technical because Quartz is becoming available with textured finishes with features that make it appear more like natural stone, with strata and marbling. Marble is the on trend colour in 2019 and Quartz is the material that can deliver a tough, durable and easy to live with surface in the kitchen.
I'm a big fan of quartz
It's not too expensive, and I would use it with an under mounted sink, with a recessed drainer and grooves. A proper jib some might say because the drainer works as it should without compromise!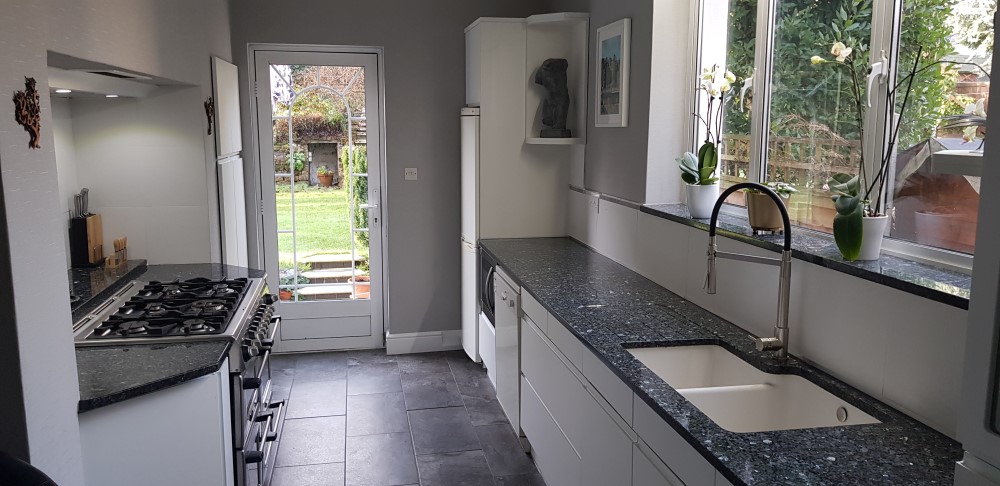 Blue Pearl Granite with Schock under mount sink, recessed drainer and drainer groves for that ultimate look, installed with a KWC SIN semi pro tap.
Stone
While this year's trend is towards lighter colours, Granite remains a firm favourite, it looks great and is available (from the right suppliers) in some fantastic and unbelievable colours and textures. Granite is not as easy to live with as Quartz because it needs a bit of TLC to keep it shiny and fresh.
Solid Surfaces
Solid surfaces remain popular and are available in some serious colour ways. Love it and you won't want anything else. Solid surfaces need to be used acefully and need some TLC to keep it fresh. Solid surface and heat don't work well together and can be damaged if not used as the manufacturer advises.
Timber
Timber the natural choice for some and easier to live with than you might think. I install Oak, Ash and Walnut and they all look good. I have also used timber with laminate in the same kitchen, and it works. It's a real pleasure to machine and install a nice eco-friendly timber worktop in a kitchen. As a natural material its best if you avoid standing water and take care with hot pans. Needs some TLC to keep it fresh and new.
Matalic
Including copper, gold, grey and silver, in addition to naturaly finished steel.
Finishing touches:
Sharp Lines square geometric shapes, low height 20mm tops are becoming popular.
Complement the worktop with a matching Upstand and splashback. Think about including a matching window sill, an ideal way to complement the work surfaces and really finish off the kitchen.
Sink and taps are an interesting feature in the kitchen. Think about matching or complementary styles and colours to make your kitchen special.
At 1st Bathrooms
We offer help and advice to all our customers who might be a bit bewildered by the diverse range of products that are available. We supply and fit beautiful kitchens.
Quote 'we had excellent advice which was later backed up with very professional work' says Kate in Redhill.
Looking for a new kitchen then give Steve a call in Nottingham on 07815453729 or visit
Steve Flewitt www.1stbathrooms.com