Why do I need a Smart kitchen?
Smart kitchens offer many benefits that can make your life easier, more convenient, and more efficient. Here are a few reasons why you should consider incorporating smart technology into these spaces in your home
Convenience
Smart technology can make turning on the lights, adjusting the temperature, and even flushing the toilet more convenient. With the touch of a button or a voice assistant, you can easily control various aspects of your bathroom and kitchen without physically interacting with switches or buttons.
Efficiency
Smart appliances and other smart features can help to save energy and water, making your bathroom and kitchen more efficient. For example, smart faucets can automatically turn off when not in use, and smart lighting systems can turn off when you leave the room.
Personalization
Smart technology can be tailored to your preferences and needs, allowing you to create a bathroom and kitchen that is perfectly suited to you.
For example, you can set your smart thermostat to turn on the heat or air conditioning at specific times of the day or create custom lighting scenes for different occasions.
Safety
Smart technology can also help to improve safety in your kitchen. For example, smart smoke detectors can alert you to a fire even if you're not home, and smart locks can help to secure your home and deter burglars.
Overall, smart technology can add convenience, efficiency, personalization, and safety to your kitchen, making them an enjoyable space to spend time in.
What smart tech is available for kitchens?
There are many different types of smart technology available for kitchens. Here are a few examples:
For the kitchen
Refrigerators
These refrigerators have touchscreen displays and can be controlled from your phone. They may also have features like automatic restocking, recipe suggestions, and nutrition information. A link to the mind-blowing world of smart refrigerators.
Ovens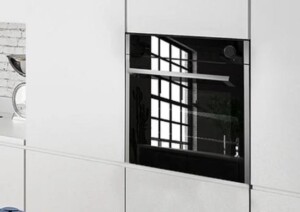 Smart ovens can be controlled from your phone and may have features like automatic temperature adjustments, recipe suggestions, and self-cleaning capabilities.
Some key features that are becoming standard with smart ovens.
Monitor your cooking remotely in real-time – via a camera in the oven linked to your mobile phone.
Adjusting cooking temperature and the duration while you're out, using your mobile.
Mobile alerts to your mobile notifying you when a cooking programme has finished.
Some functions on your oven may be controlled by voice – using Google Assistant, Alexa or Apple HomeKit.
Some smart ovens give a service engineer remote access to your appliance
Taps
Smart taps are equipped with sensors that automatically turn the water on and off, helping to save water and reduce the risk of accidental flooding.
Instant hot water
Refreshing cold and in some cases sparkling water
Easy control
Just the right amount of water
Scales that are smart
Scales yes, can connect to your phone or tablet to provide recipe recommendations and even nutrition information based on your ingredients.
Smart kitchen scales are a full-on asset to any kitchen if you are health conscious, an avid cook, or for medical reasons the smart scales are here to do the sums.
With easy access, the smart scales are definitely much more useful than just seeing how much something weighs, how about things like nutritional information, calories, and easy-to-follow recipes?
Smart scales are generally lightweight and durable,  easy to store and transport. , track your progress, and access recipes and inspiration wherever you go.
Voice assistants
Voice assistants like Amazon's Alexa and Google's Assistant can be integrated into your kitchen to make tasks like creating shopping lists and ordering takeout easier.
You can choose by asking Alexa or google assistant for a recipe, all recipes, cooking time, or ingredients. You get a step-by-step recipe, on-screen with pictures talking you through what to do.
Control cooking, fridges and even your weighing scales.
Thermostats
Smart thermostats can be controlled from your phone and set to turn on the heat or air conditioning at specific times of the day. great if you are at work and it starts to snow or going to be late home.
Why do I need a S
mart kitchen?
Overall, many different types of smart technology are available for kitchens, ranging from appliances to fixtures and even voice assistants. By incorporating these technologies into your home, you can create a more convenient, efficient, and personalized space