The latest trend in posh hotels is the shower toilet
It follows that customers who like this innovation may then decide to have the same facility at home! Many may already have encountered a shower toilet on international flights where this device is used in thousands of aircraft.
In the UK it has for many years been conceived as a must-have device for people who have a disability that limits mobility but on the continent, the shower toilet is viewed as an essential hygienic device for any bathroom where toilet paper is not used.
I observe a maturing market in the UK where there is a growing demand in health, hygiene and wealth sectors, or in short for the posh, the elderly and the disabled.
Companies like Geberite, Vitra, Grohe and Roca and AKW have produced products for all these markets, but the growing demand is the luxury end. The Japanese are recognised as major manufacturer of shower toilets for worldwide customers. Costs vary but a basic shower toilet can cost around £1000 for a basic system were as some top-end models retailing in the thousands.
What is a shower toilet?
Here is a photo and brief description of the Vitra Care Smart Shower Toilet recently installed by 1st Bathrooms:
The shower toilet combines the convenience and accessibility of the wall-mounted WC with the comfort and cleanliness offered by the bidet. Vitra has created a hybrid piece of sanitary ware that offers contemporary bathroom luxury. This stylish appliance provides the user with the chance to gently wash and dry after using the WC, the V-Care system is the ultimate in comfort. The arc of the water and angle of the drying airflow can be adjusted exactly to your liking. Fitted with an automatic seat and lid that senses your approach, this toilet prepares itself for your arrival. The heated seat can be set to your personal preference, ready and warmed to give you the ultimate in bathroom luxury. Taking a focus on hygiene as well as luxury and convenience.
The V-Care Intelligent Rimless WC Comfort model has all of its features controlled via a wireless keypad. From this interface, every aspect of the unit, from the direction of the cleansing water jet to the activation of the seat and lid can be controlled. This hands-free approach ensures a level of hygiene and cleanliness out of the reach of standard toilets. Featuring a rimless design, this WC ensures as much water as possible from each flush goes into cleaning the pan while eliminating nooks from the design that risk of harbouring microbial growth. Being wall-mounted and at an accessible-height with a projection of 600mm, this is a WC pan that gives greater accessibility to all. For anyone who struggles with standard toilets, such as those in pregnancy, or with limited mobility, this WC unit gives an unprecedented level of comfort.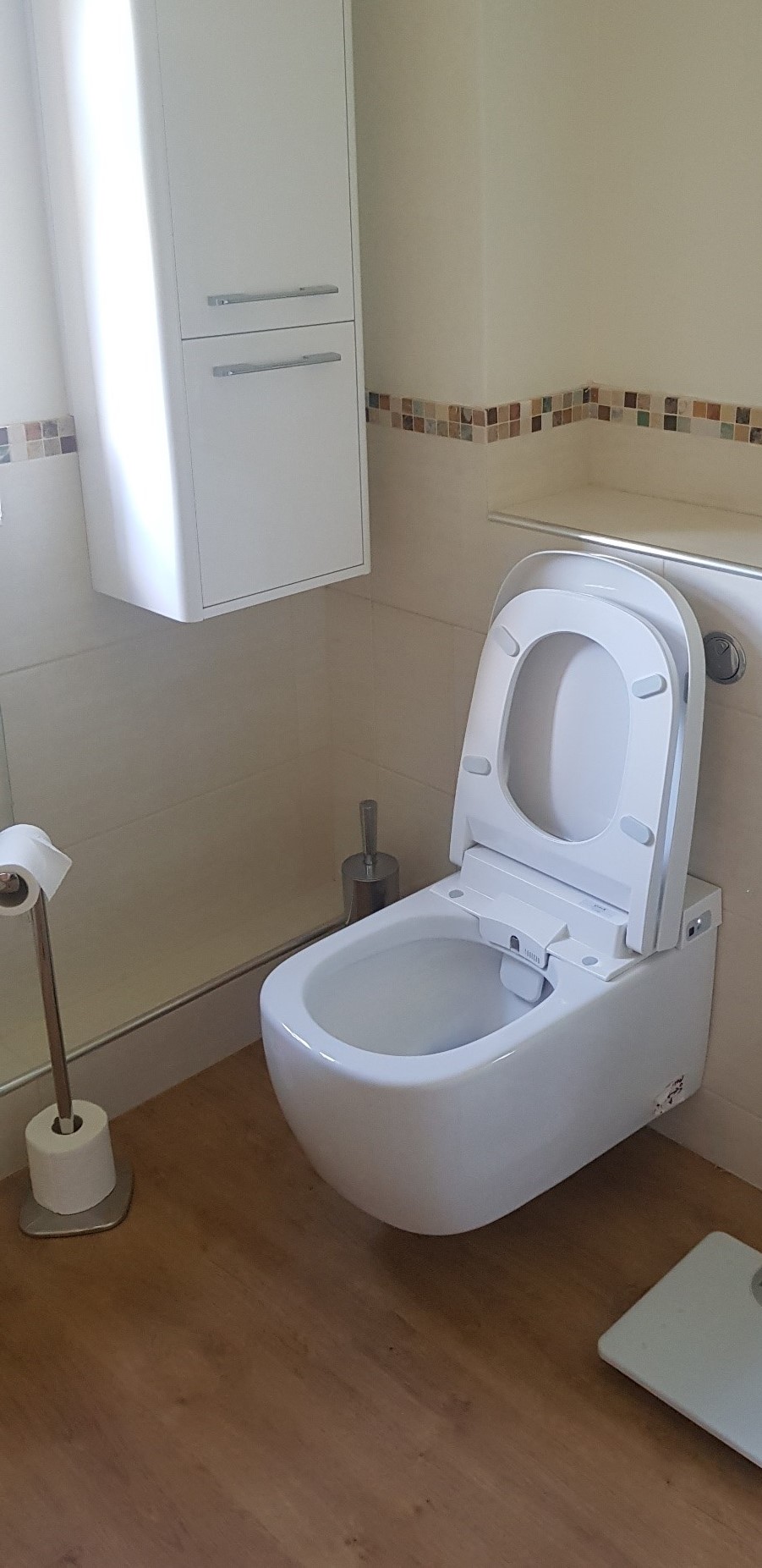 As with anything luxury, the range of features is significant.
The basic model shown from Vitra does not Heated warm dry airflow.
Having introduced you to the concept
I can also confirm that there are other cheaper solutions that meet the basic needs and that can be used with your existing WC. This is what is available:
Hand help shower, remotely mounted djacent to the existing toilet. I would also specify something with thermostatic control to minimise the risk of injury. These are available with cold, pre-set or with adjustable temperatures.
This is another product recently installed by 1stBathrooms.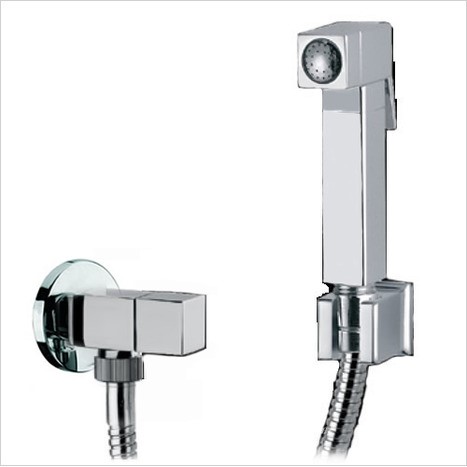 The Shower Toilet seat or Bidet Toilet is a self-contained system that can be mounted onto an existing WC pan, wall hung or floor mounted: provided there is a mains water and a 240V RCD protected electric supply available. Some Bidet Seats are higher spec. than than others, others easier to operate, or some are easier on the eye. But all tend to raise the seat by up to 50mm to comfort height and are completely self-contained. I have supplied and installed AKW and Geberite.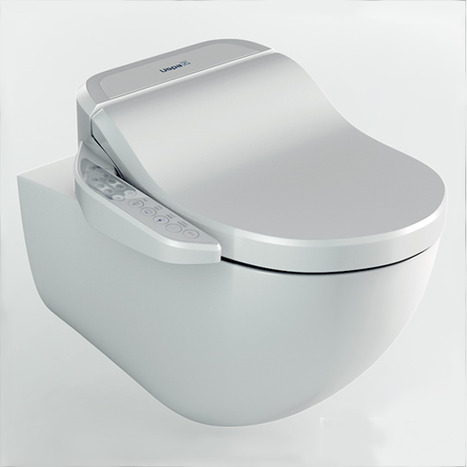 The picture shows GWH-7235 is a
Japanese Bidet Toilet Seat.
The toilet that combines a built-in bidet to enable you to wash and dry whilst remaining seated on the toilet. A stunning pairing of a WRAS approved electronic bidet seat (WRAS Approval Number: 1309335) exquisitely paired in this case with a pure white Italian wall hung toilet bowl
This seat and pan combination has a similar spec to the shower toilet. Where the shower toilet is an integrated solution the Bidet Toilet seat can be added, removed or replaced without removing or replacing the pan. The seat can also be purchased without the pan so that it fits over your existing facility.
So if you feel that a shower toilet in some form will meet your needs then please let me know using the link below. I will then call you to discuss the need and specify a product especially for you. If you want it installing then please say so when we talk.
Please contact Steve to discuss your shower toilet or if you prefer to call me 07815 453729