Kitchen Sink Trends 2019
The popularity of industrial style kitchens has favoured stainless steel as a material that has an edge. However, there are many other materials that fit the diverse range of individual, kitchen and lifestyle needs. There will always be a place for kitchen sink for not just washing pots but increasingly for preparing food.
The wish list for sinks includes:
Size: Flexible bowl sizes and different configurations to suit your kitchen, and personal style. Single, Double or the 1.5 bowls remain the popular choice but many require larger single bowls for washing larger trays, pots and pans that won't fit in the dishwasher. For many this includes the removable shelves from the over cavity too.
Material: Whilst stainless steel dominates the market because it's easy to live with, use and clean and there are other materials that can be considered by the discerning user, seeking something different and stylish. The rise in the use of stone, granite, quartz and solid surface has led to sinks is complimentary materials, styles and finishes becoming available.
Quartz in natural colours including white, cream, stone, grey and black.
Blue Pearl Granite
Blue Pearl Granite with Schock under mount sink, recessed drainer and drainer groves for that ultimate look, installed with a KWC SIN semi pro tap.
Under mount, Surface mount, Inset sinks might all be in demand, for me a sleek under mount, with sunken drainer plus grooves delivers a modern vibe and a clean easy to live with minimalist look.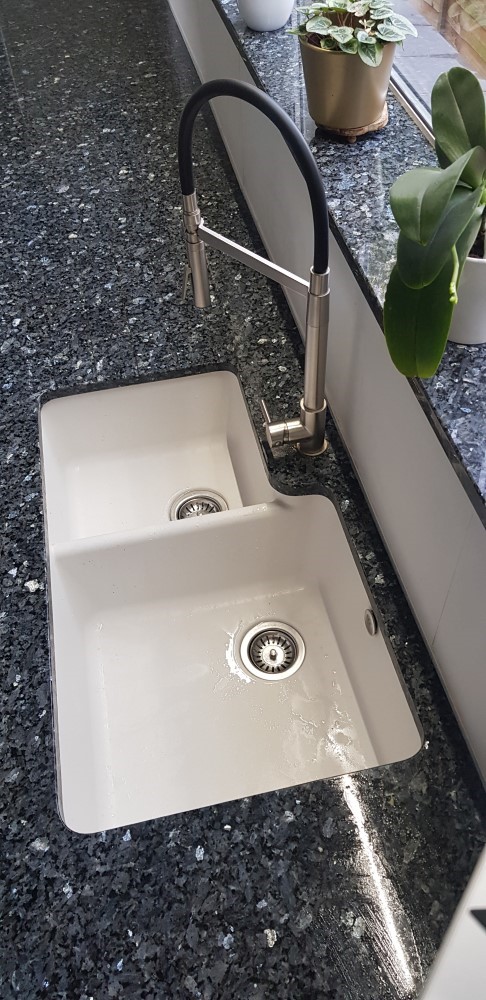 "We had excellent advice which was later backed up with very professional work from electrics to plastering to tiling to fitting' says Kate in Redhill."
All the sinks offered by 1st Bathrooms and Kitchens are available with taps from top quality manufacturers including Shock, Gessi, Pegler, Newform, Perrin & Rowe, Grohe, Abode to name a few.
Need help finding the right sink for your kitchen?
If you don't know which sink is best for your kitchen then contact Steve our chief designer who will take you through the options
Granite and Quartz granite
Granite / Quartz granite mix's from Shock, are durable, easy to use and clean, plus pro hygienic, dirt repellent, heat proof, impact resistant, stain resistant and are made to last. Available at least 12 colours that include in black to greys, Polaris white, creams, browns and red.
Solid surfaces that match the work surface to.
Metallic including copper, gold, grey and silver, in addition to naturally finished steel.
Accessories: Transform the humble sink into a multipurpose work station, adding value, quality and style to the kitchen.
Granite / Quartz granite
Granite / Quartz granite, With materials like:
Granite, Clearwater, Schock, inset, flush and under mounts.

Cast iron we offer Kohler

Ceramic inset, under mount, lay on and apron front we have Thomas Denby, Villeroy & Bosch, Shaws and Caple

Stainless steel we offer Clearwater, Range master, Kohler, KWC
Denby Heritage 800 sink with Cottage tap – a modern take for an English Kitchen.