Top kitchen trends for 2023
As we start a new year, it's always interesting to see what trends will take over in the home design world, and the kitchen is no exception.
From colour schemes to appliances and storage solutions, here are a few of the top kitchen trends we can expect to see in 2023.
We love our kitchens
It's not a secret that we love our kitchens and a beautifully designed kitchen is essential for a number of reasons.
It is the space where we spend the most amount of time cooking with our family or eating. 
Our kitchen is an investment, a space where we socialise, eat and share family time but It's also important to bear in mind that the kitchen can add value to our home. Important if we are thinking of selling.
White is outdated and old fashioned
All-white and farmhouse-style kitchens have been popular for many years however homeowners, designers, and developers are finally starting to see a move in kitchen styles as they evolve. 
Here are some kitchen design trends going away in 2023, according to experts and interior designers.
All white is out and dark and moody colour schemes are in
While light and airy kitchens have been popular in recent years, we can expect to see a shift towards darker and moodier colour schemes in 2023. Think deep, rich tones of navy, forest green, and black. These colours create a sense of drama and sophistication in the kitchen and pair well with brass and copper accents.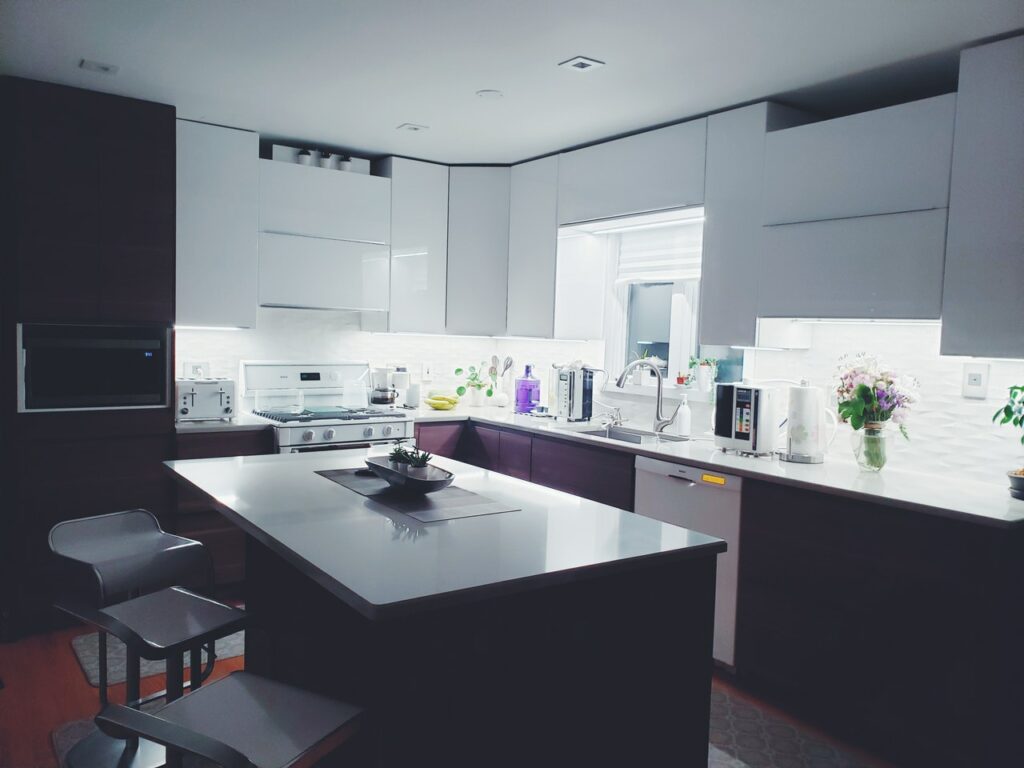 Open plan kitchens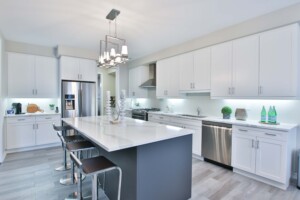 It's been going on for some time walls coming down, space made bigger and the development of the open-plan kitchen.
However, it would seem that the trend is moving fast towards separate kitchens once more and the sight of dirty pots and dishes banished. 
A separate dining area where entertaining and more glamorous decor can be achieved is becoming more favourable.
The impact of a large table with chairs and carefully place items and carefully planned place settings are definitely taking over. 
Mixed materials
Mixing and matching different materials is a big trend in kitchen design. Instead of having a kitchen that is all one material, we will see a mix of wood, stone, and metal in the same space. This adds texture and interest to the kitchen and creates a more personalized and unique look.
Darker woods are favourable and matt black hardware is heading to the tip.
The idea of mixing different materials isn't new but the exciting part is what we are mixing. 
Layering and texture adding interest and deeper tones.
Smart Appliances
Technology continues to advance, and we expect to see more smart appliances in the kitchen. From refrigerators with touchscreen displays to ovens controlled by your phone, these appliances make it easier to cook and keep your kitchen organized.
The need to be more economical and incorporate Quooer taps to give you instant hot or sparkling water. Microwaves with built-in ovens and crispers save time and energy. 
It's fun times and exciting too.
Hidden storage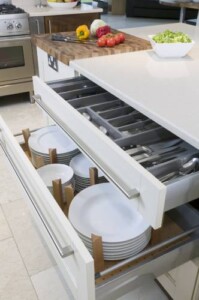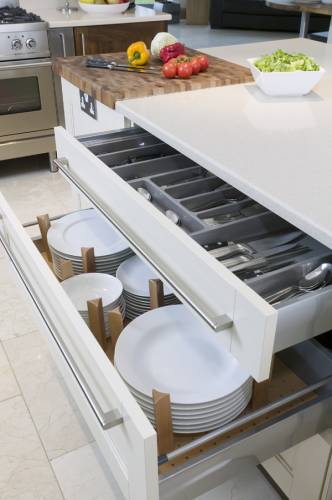 In an effort to create a clean and clutter-free kitchen, we will see more hidden storage solutions in 2023. This could include pull-out pantries, under-shelf baskets, and even appliances with built-in storage, like a range with a warming drawer underneath.
This clean clutter-free approach needs much planning and it's good to get help from a professional as they are used to planning and what works. However, in this new era of kitchen space, we need to have ideas of what we are trying to achieve also.
There are so many new cupboard inventions to save bending, easy access and clean tidy worktops.
Sustainable materials
As people become more environmentally conscious, we will see a rise in using sustainable materials in the kitchen. This could include recycled glass countertops, bamboo cabinetry, and energy-efficient appliances.
Things in this area are moving fast bamboo is hugely sustainable because of its rapid growth and its ability to regenerate after harvesting. 
It's also resistant to pests and diseases, making it an ideal material for eco-friendly buildings. Who knows we might build bamboo houses in the future. 
So far Bamboo has been used to create furniture, fuel, clothing, decor, medicine, plates and dishes, baby products, cutlery, jewellery, food, and even bike frames. Wow!
Keeping your budget affordable
It's important to consider affordability when planning a kitchen renovation or designing a new kitchen. Here are a few ways to incorporate some of the trends for 2023 into your kitchen while still staying within budget:
Opt for paint instead of costly materials: If you love the look of a dark and moody kitchen but don't want to splurge on new cabinets or countertops, consider painting your existing ones in a deep colour. This is a relatively inexpensive way to make a big impact in the kitchen.
Mix high and low: Instead of using all high-end materials, consider mixing in some budget-friendly options. For example, you could splurge on a stone countertop but opt for a more affordable tile backsplash.
Shop around: Don't be afraid to shop around and compare prices. You may be able to find a similar look for less if you do your research and negotiate with contractors or suppliers.
Consider DIY projects: If you're handy, you can tackle many DIY projects in the kitchen to save money. This could include painting cabinets, installing backsplash tile, or even building your kitchen island.
Prioritize your must-haves: Finally, it's important to determine what features are most important to you in your kitchen and allocate your budget accordingly. If you can't live without a smart fridge but don't care as much about a fancy range, prioritize your budget accordingly.
Overall, the kitchen trends for 2023 are all about creating a unique and personalized space that is stylish and functional. Whether you're drawn to dark and moody colour schemes or sustainable materials, there are plenty of options to create a kitchen that reflects your style.
1st Bathrooms and Kitchen Design
Call 07815 453729