Immediately dispense boiling hot water through your kitchen tap
On-trend with your kitchen tap, looking to save energy, clear the kettle off your work surface and simply enjoy the convenience of being able to immediately, without delay dispense boiling hot water directly?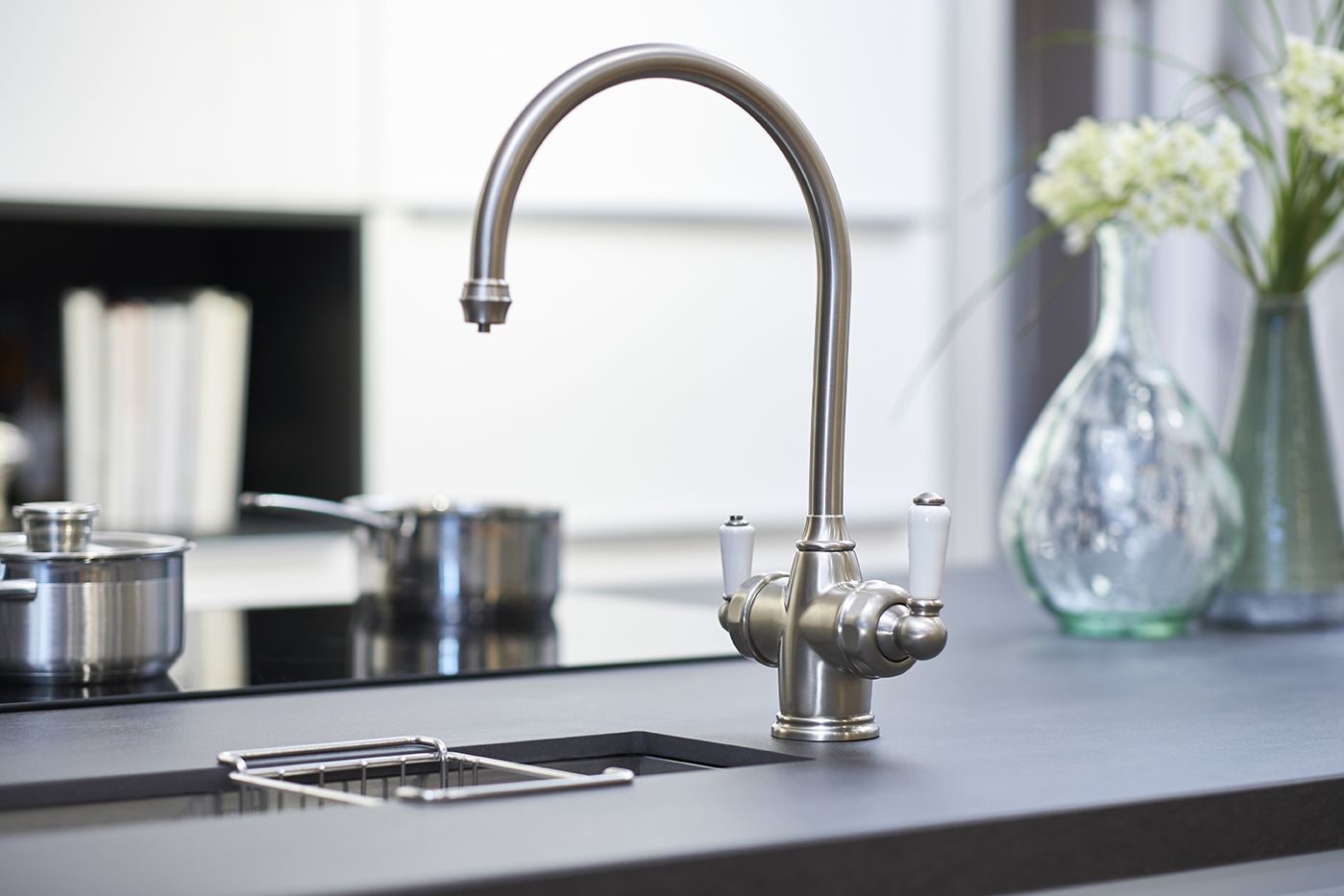 The kettle tap is not a new device, it's something that's now maturing in the market where demand dictates it be.
Here are a few things you may wish to consider when choosing your kettle tap:
Safety – Childproof features differ by the brand but all have them and they are equally safe for people struggling with memory and/or mobility issues
Insulated spout – means no hot contact surfaces
Choose a style that fits your kitchen; classic, contemporary and modern designs to suit most kitchens are widely available
1st Bathrooms & Kitchens can supply kettle taps from the following quality brands:
Clearwater Maestro 3in1, classic style twin lever kettle tap in Brushed or Chrome finish
Abode – Pronteau, 3in1 and 4in1, a modern, kettle tap, available in 5 finishes and 2 styles, with or without a filter. 1 tap hole or 3 tap hole styles
ISE or In Sink Erator offers a basic range similar to others but also offers a range of funky styles to meet the needs of others, single lever, twin leaver, touch technology and filter. Wow!
Perrin & Rowe, the only brand to offer modern and classic Victorian style kettle taps, one tap hole installations
Gessi, square and round profile 3 in 1 kettle taps.
At 1st we offer complimentary sink upgrades; period or modern and work surfaces to match if that's on your to-do list!
It's Filtered water
Yes, the Kettle tap filters your water, no cartridges to change no storing water in the fridge.
Are Kettle Taps Economical
If you thought that the kettle tap may be wasteful, think again: when the kettle tap is on standby it costs around 3 pence a day. For even more efficiency, choose a combi tank what an amazing economical way to produce both hot and boiling water.
In an Instance
Imagin hot water up to on average 98 degrees in an instance. Just a kettle tap and a mixer tap or variable temperature single kettle tap wich is cold to hot, you're in control the kettle tap leaves you in control.
No limits to use
Make all your hot drinks, no waiting 5 minutes for the conventional kettle. Cooking is a breeze with a kettle tap; imagine filling a pan with hot water ready to cook your eggs, porridge, couscous, or rice with instant boiling water. You can sterilize baby's bottles, soak pans with the ready hot water.
Hot water to clean within an instance. There are no limits to the use of the kettle tap; it just sits neatly incorporated into your worktop taking little space ready and waiting. Very convenient.
Safety Features
Separate waterway for fitted kettle hot water avoiding cross-contamination.
Child-safe anti-scald lock control with push-down mechanism and spring back valve.
insulated antie scald spout push-down mechanism and spring back valve
Hot/cold water control with energy-saving cold water start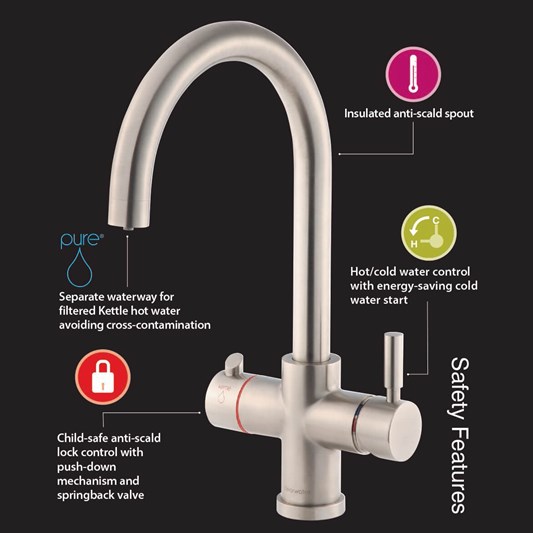 About kettle taps
Kettle Taps immediately dispenses boiling water, neatly fitted on the worktop. A hidden tank under worktop that provides direct hot water.
You can choose between a separate boiling water tap with accompanying mixer tap, or a single tap for hot, cold and boiling water.
Ultra safe and fast.
Save energy and water
The kettle tap costs 3 pence a day. Not a bad to have boiling water at hand, exactly when you want it. You control the volume of boiling water you need. So you really will save money. No running the water tap for ages waiting for the hot to arrive, Kettle taps are instant. You may choose the combi type, which will supply all of your kitchen's hot water needs. Generating both hot and boiling water in a single compact unit under your worktop, the combi type kettle taps eliminates the conventional hot water systems, therefore no piping hot water from the main boiler to kitchen sink. Perfect!
All of your hot water
The kettle taps combi boiler generates all of your kitchen's hot water and boiling water. From one neatly tucked away compact tank under your sink you get instant hot water!
Economical on water resources and energy:
Fabulous it's better for the environment and the one most single efficient way to provide hot and boiling water. No more waste.
Safe to use kettle tap
The main thing is the kettle tap safe.
We have to be careful when using hot and very hot boiling water.
Conversional kettles can be Knocked over or dropped.
kettles cause hundreds of casualties each year, especially with young children.
Features on Kettle taps such as childproof handle and insulated sides that ensure it never feels hot to the touch. This is also useful with health issues and people who may be partly or completely blind. The water comes out of the tap is boiling, however the flow is a fine spray rather than a solid jet, giving you time to get your hands out of harm's way. Safety and ease of use of a kettle tap go hand in hand.
At 1st Bathroom and Kitchens, we firmly believe no modern kitchen is complete without its kettle tap
Please contact Steve to discuss your kettle tap needs on 07815 453729
At 1st Bathrooms
We offer help and advice to all our customers who might be a bit bewildered by the diverse range of products that are available. We supply and fit beautiful top quality bespoke kitchens.
"We had excellent advice which was later backed up with very professional work" says Kate in Redhill.