The owners say 'so, so, so worth the wait, this is definitely my new favourite room'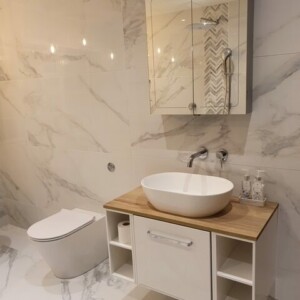 We recently moved into this 1970's built classic home. It's been very well maintained but never modernised or updated. We desperately wanted it ripped out and replaced. The old bath, basin and WC were as you see coloured, the bath was in a dominant limiting location. The tiles likewise were just not what you expect to see in any house this century. They had to go BUT the walls are made from cardboard. Ah… so we dare not attempt to remove the tiles for fear the wall will be destroyed.
Just before we started this refurb we changed a condemned 70's gas boiler and its ageing tank for something new. We now have high pressure hot and cold water so can choose whatever products we like in the new bath / shower room.
We desperately wanted a free standing stone bath
but alas we were told this was not feasible, it was much heavy for the house. We also wanted a large walk-in shower. Easy to love with vanity unit, storage, a bit of class and style.
The wet floor shower was an issue, it's the drains they have to run downwards and in some rooms the joists get in the way, just like ours did. The channel drain is very long and added a further complication to the drainage installation. The shower is digital and the controller is hidden away in the loft so we only see the minimalist shower heads in the room, we much prefer the minimalist look and it's so easy to use.
The WC cistern is re located into the wardrobe of the bedroom next door, we like this because it minimises the WC in the bathroom and looks great.
We changed the tiles for large format marbled style, adding mosaic into the wet floor to help with non-slip grip. Working with tiles was a challenge for our installer, even using a large format wet and dry cutting machines resulted in some straight cuts turning into round! The floor is electric under floor heated, even the wet floor area. It's Yummy.
We have been lucky to keep the old airing cupboard, now refurbished and without its copper tank. So very useful for keeping our linen and towels warm, dry and fresh.
The original lighting had to go. We much prefer what we have now.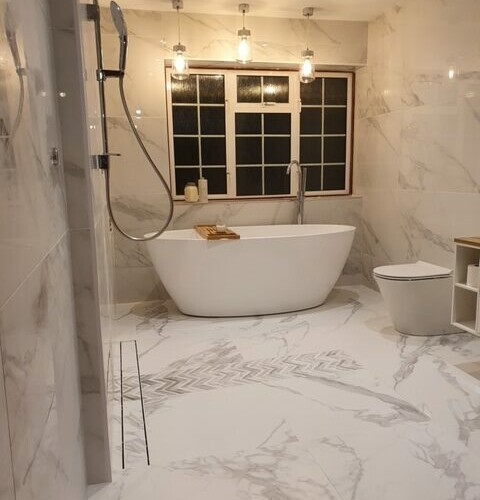 'We worked to a really tight budget, spending more on installation than planned but saved on fixtures and fittings,' says the owner. 'The quality is great and this room is such a joy to use.' We now have the bathroom and wet-room of our choosing, it's a delight to use and so pleasing on the eye. We love it.
Thank you Steve at www.1stbathrooms.com